Benzin Manager
Save money
on that Refuel the right gasoline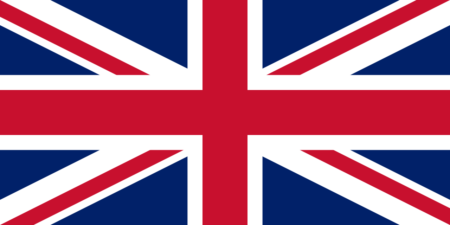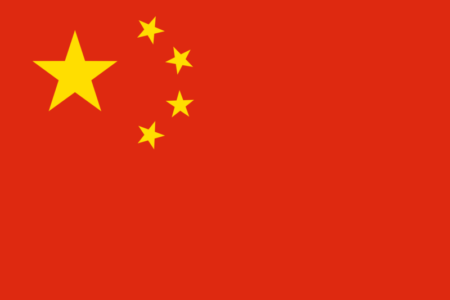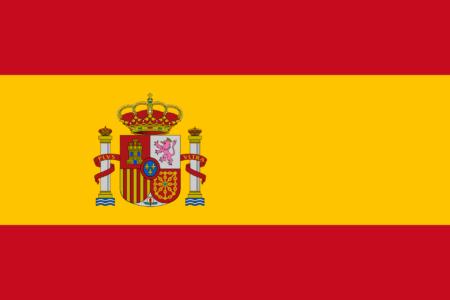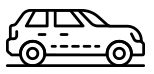 Enter your Car as well as tank information so the app can make calculations of your petrol consumption

Enter the Gas Stations you use so you can see which petrol your car drives the longest.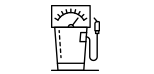 Enter your tank information every time you refuel and keep track of where you can apare most on your petrol
Add more cars so you can follow all your cars
Detailed statistics on your consumption
Save money in the long run
Features
* Calculation of fuel consumption
* Driving info calculation
* List of filling stations with statistics
* Delicious user interface
* Multi-car support
* Multi-location (6 languages)
* Danish, English, Simplified Chinese, Chinese, Russian, Spanish
* Siri shortcuts
* 3D Touch shortcuts
The app has a complex algorithm for calculating fuel consumption in months / years.
In Benzin Manager you can easily monitor your fuel consumption, the odometer in your car, the fuel quality at various filling stations and the amount of money spent on refueling. The app will be able to help you with useful and real data to minimize your gasoline costs.
You only need at the next refueling, enter the data (the amount of fuel filled, the odometer and the price per liter). Then the application calculates the useful data that you find using a modern and comfortable user interface.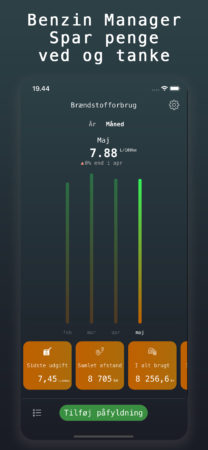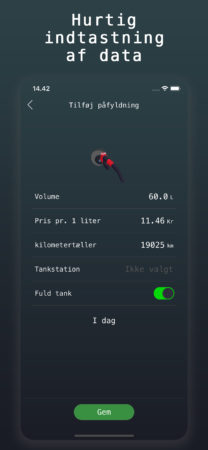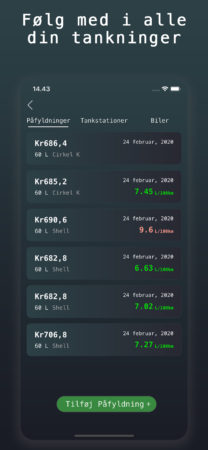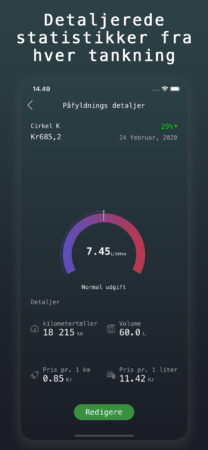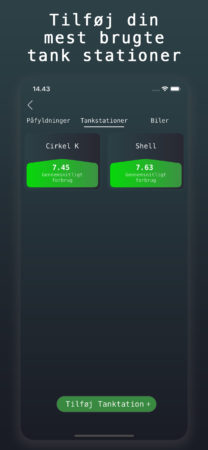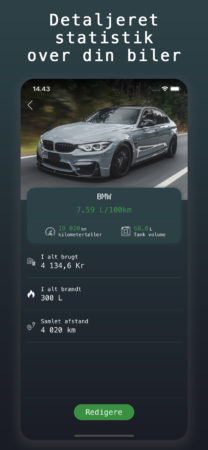 Frequently Asked Questions
How to add a refueling entry?
On the main screen at the bottom is the "Add Fuel" button. After clicking on it - enter filling data and save
The car's odometer indicates how far the car has driven. It must be entered directly after refueling.!
How to achieve the most accurate results?
Enter the data after each refueling, always try to fill in a full tank and mark it in the application
Can I change the details of a previous refueling?
No way 🙂 Although there is a way for hackers. You can change the date on the device and register a car earlier. unfortunately.
How to add a gas station with a date earlier than the date of registration of the car?
Yes. Go to the page with the list of petrol stations and select the one you need, then you will find the "Edit" button below.
Can I change the car information?
Yes. You can do this on the side of the car you need to change. You can change the photo, name and volume. Please note that you will not be able to change the volume of the tank if you add a filling station with a large amount of fuel. For example, if you have once burned 40 liters, it will be impossible to change the tank volume to 39 liters.
Why is the main screen blank?
To get the first details about your trip and fuel consumption, refill the car at least twice with the Benzin Manager
Why is it important to enter accurate data?
To see the correct statistics. By specifying an incorrect mileage indicator or tank volume, the application will perform calculations with incorrect data
Who can see my data from the application?
None, unless you show them yourself. the application does not collect or send data related to your gas stations / cars. Everything will only remain on your iPhone
Effective date: 18 December 2019
Benzin Manager ("us", "we" or "our") operates the website BildsøeTech and Benzin Manager.
This page informs you about our policies regarding the collection, use and disclosure of personal data when you use our Service and the choices you have associated with this data. Our Privacy Policy for Benzin Manager - fuel consumption is governed by privacy policies.
We use your data to provide and improve the Service. By using the Service, you agree to the collection and use of information in accordance with this policy. Unless otherwise defined in this Privacy Policy, the terms used in this Privacy Policy have the same meanings as in our Terms and Conditions.
Information collection and use
We collect several different types of information for different purposes to provide and improve our service to you.
Types of data collected
Personal data
While using our service, we may ask you to provide us with certain personally identifiable information that may be used to contact or identify you ("Personal Data"). Personally identifiable information may include, but is not limited to:
* Cookies and usage data
User data
We may also collect information that your browser sends each time you visit our service or when you access the service from or via a mobile device ("User Data").
This usage data may include information such as your computer's Internet Protocol address (eg IP address), browser type, browser version, pages of our service you visit, time and date of your visit, time spent on these pages, unique device identifiers and other diagnostic data.
When you access the Service with a mobile device, this usage data may include information such as the type of mobile phone you use, your mobile device's unique ID, the IP address of your mobile device, your mobile operating system, the type of mobile internet browser you use, unique device identifiers and other diagnostic data.
Use of data
Benzin Manager - fuel consumption uses the collected data for various purposes:
* To provide and maintain the service
* To notify you of changes to our Service
* To enable you to participate in interactive features of our service when you choose to do so
* To provide customer care and support
* To provide analysis or valuable information so that we can improve the service
* To monitor the use of the Service
* To detect, prevent and solve technical problems
Data transfer
Your information, including personal data, may be transferred to - and maintained on computers located outside of your state, province, country or other state jurisdiction where data protection law may differ from that of your jurisdiction.
If you are located outside Denmark and choose to provide information to us, you must be aware that we transfer the data, including personal data, to Denmark and process it there.
Your consent to this Privacy Policy followed by your submission of such information represents your agreement to this transfer.
Benzin Manager takes all reasonably necessary steps to ensure that your data is processed securely and in accordance with this Privacy Policy, and no transfer of your personal data will take place to an organization or country unless there is adequate on-the-spot checks, including security. for your data and other personal information.
Disclosure of data
Legal requirement
Benzin Manager may disclose your personal data in good faith that such action is necessary to:
* To comply with a legal obligation
* To protect and defend the rights or property of Benzin Manager
* To prevent or investigate possible misconduct in connection with the Service
* To protect the personal safety of users of the Service or the public
* To protect against legal liability
Data security
The security of your data is important to us, but remember that no method