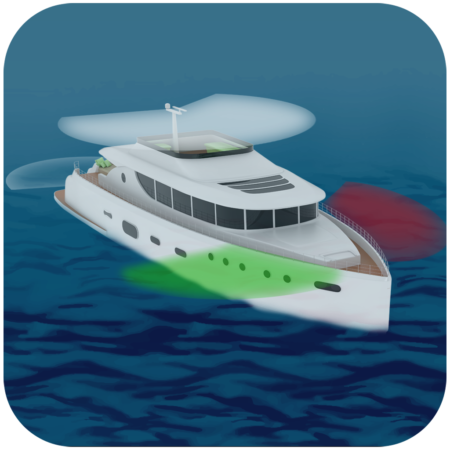 Ship Light Quiz is your simple Ship Light info app with a simple Quiz where you can test your skill in and recognize Ship Light characteristics and formations to know.
find illustrations with descriptions and categories of the various ship lights you can find in the app.
you can find in the Quiz
and info section
Engine powered ship over 50m
Machine powered ship below 50m
Quiz with 49 questions where you have 35 seconds for each question
where you get points based on how much time is left per questions.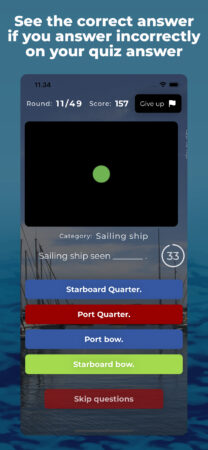 Find the characteristics of ship lights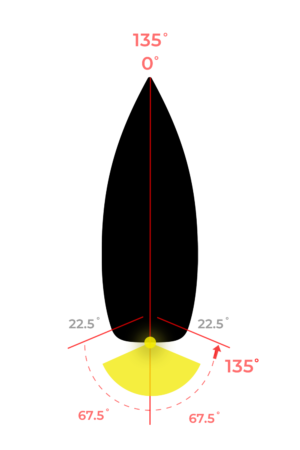 Frequently asked question
Where can you see information on ship lights?
Can you find info about the visibility of the ship's lights.?
Can I give up during a quiz..?
Can I skip a question in the quiz..?
Can you see the category of a question during a round?
How do I see if I have answered correctly or incorrectly..?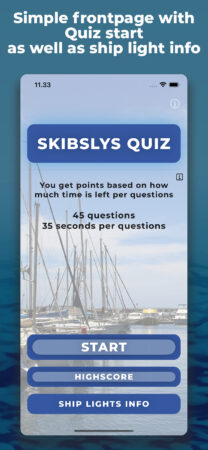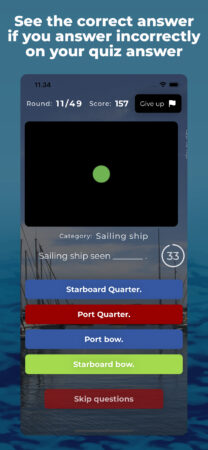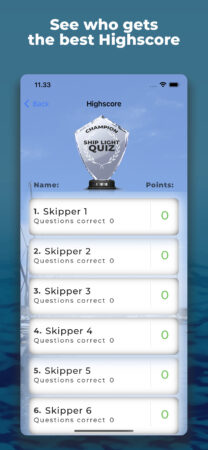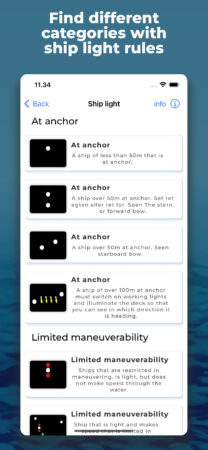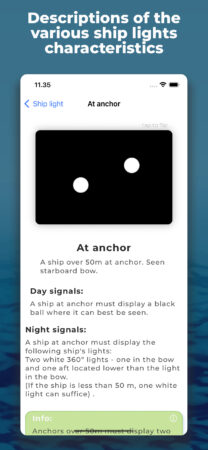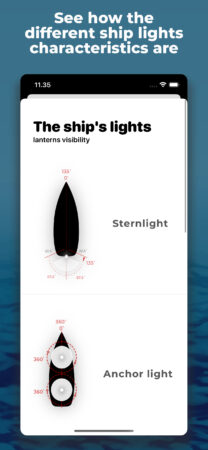 Effective date: 14 Nov 2022
Bildsøetech delivers the application Ship Lights Quiz app. This SERVICE is provided by Bildsøetech at no cost and is intended for use as is.
Skibslys Quiz ("us", "we" or "our") operates the website BildsøeTech and Skibslys Quiz.
This page informs you about our policies regarding the collection, use and disclosure of personal data when you use our Service and the choices you have associated with that data. Our privacy policy for Ship Lights Quiz - governed by privacy policies.
We use your data to provide and improve the Service. By using the Service, you consent to the collection and use of information in accordance with this policy. Unless otherwise defined in this Privacy Policy, the terms used in this Privacy Policy have the same meanings as in our Terms and Conditions.
Information collection and use
We collect several different types of information for different purposes in order to provide and improve our service to you.
User data
We may also collect information that your browser sends each time you visit our Service or when you access the Service by or through a mobile device ("User Data").
This Usage Data may include information such as your computer's Internet Protocol address (e.g. IP address), browser type, browser version, the pages of our Service you visit, the time and date of your visit, the time spent on those pages, unique device identifiers and other diagnostic data.
When you access the Service with a mobile device, this usage data may include information such as the type of mobile phone you use, your mobile device's unique ID, the IP address of your mobile device, your mobile operating system, the type of mobile internet browser you use, unique device identifiers and other diagnostic data.
Use of data
Skipslys Quiz uses the collected data for various purposes:
* To provide and maintain the service
* To notify you of changes to our Service
* To allow you to participate in interactive features of our Service when you choose to do so
* To provide customer care and support
* To provide analysis or valuable information so that we can improve the service
* To monitor the use of the Service
* To detect, prevent and solve technical problems
Transfer of data
Your information, including Personal Data, may be transferred to - and maintained on computers located outside of your state, province, country or other governmental jurisdiction where data protection laws may differ from those of your jurisdiction.
If you are located outside Denmark and choose to provide information to us, you should be aware that we transfer the data, including personal data, to Denmark and process it there.
Your consent to this Privacy Policy followed by your submission of such information represents your agreement to this transfer.
Skipslys Quiz takes all steps reasonably necessary to ensure that your data is treated securely and in accordance with this privacy policy and no transfer of your personal data will take place to an organization or country unless there are adequate controls in place, including the security of your data and other personal information.
Disclosure of data
Legal requirement
Skipslys Quiz may disclose your personal data in the good faith belief that such action is necessary to:
* To comply with a legal obligation
* To protect and defend rights or property that is Ship Light Quiz
* To prevent or investigate possible misconduct in connection with the Service
* To protect the personal safety of users of the Service or the public
* To protect against legal liability
Security of data
The security of your data is important to us, but remember that no method of transmission over the Internet or method of electronic storage is 100% secure.
We understand your concern about the privacy of your data and information submitted through our applications. Read the text below to learn more about our privacy policy
politics. The policy describes in detail how we receive, collect and use information through the Application.
By accessing or using our Applications, you agree to the terms and conditions of this Privacy Policy. From time to time this policy is revised and amended.
We reserve the right to do so at any time without prior notice. Your continued use of this application means that you accept this privacy policy and any changes
and/or updates. Sharing and disclosure of information We never share personal information about users with third parties. Consent to Policy You periodically agree to
review the policy to be aware of changes. Your continued use of the application constitutes your consent to any changes and also means
your acceptance of the terms of our policy. If you do not agree to these terms, do not use our applications.
Contact information
If you have questions or suggestions in connection with the privacy policy, please feel free to contact me under the Contact menu